The Storm is Turning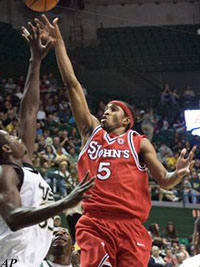 The win against South Florida proved that St. John's could beat a team it was favored to beat. We haven't necessarily seen that this season (the loss against Niagara comes to mind). Beating Rutgers at the RAC wasn't an easy game either. Ask guys who have come into the RAC in the past and they will tell you it's a difficult road environment.
In addition, the win against Providence turned into a real confidence booster. Some Big East experts had the Friars picked well above the Red Storm in preseason.
While the Red Storm is still far from being a dominating team, their 4-7 conference record has them showing some signs of life in the race to qualify for the Big East Tournament.
Right now they are tied with Villanova and Providence for the final spot in the league tourney. Who would have foreseen that a week or two ago when they were sinking fast and losses were mounting?