St. John's Wins Over CSUN; Loses PG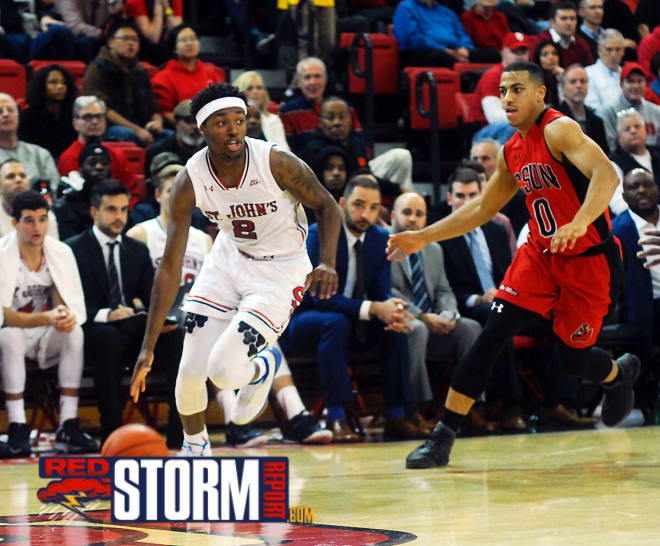 JAMAICA, NY - Tasked with being the sole orchestrator of the offense for the first time in his early college career, Shamorie Ponds passed with flying colors. The former Jefferson star took over the lead guard responsibilities for St. John's on Monday and shined as the program picked up its second straight win, following a five-game losing streak.
Marcus LoVett was sidelined with an ankle injury picked up in practice Sunday, which left Ponds, who has played primarily off-ball with LoVett on the court, the task of carefully picking his spots on when to be aggressive in looking for his shot versus setting up his teammates to keep them involved and in rhythm.
"It changed a lot," coach Chris Mullin said of the loss of the team's leading scorer. "When you take a starter and one of your best players out of the lineup, it affects rotation, your starting lineup and guy's roles. So, I thought from that standpoint, a bunch of guys did a good job stepping up and taking a little more responsibility than they have the previous eight games."
Ponds answered the challenge with a career-best 25 points, shooting over 50 percent while knocking down three 3-pointers, and added five assists in St. John's 76-70 win over Cal State Northridge in Carnesecca Arena. Of course, Ponds, whose on-court chemistry with LoVett seems to be one of the key driving forces of this team's success thus far, had a different perception of life without his fellow running mate.
"I don't think all that much changed," Ponds said of playing without LoVett. "I just tried to be more aggressive and be a leader out there and be more vocal, get all of my teammates involved, and try to dig out a win."
Federico Mussini came off the bench and drained his first four 3-point attempts, including a stretch of three makes in three possessions, for 12 points in just 10 minutes in the first half. Bashir Ahmed was aggressive from tip off to the final buzzer — taking 12 trips to the free-throw line to score 8 of his 12 total points.
While the offense clicked early for St. John's (it shot 52 percent in the first half), the Johnnies led by just four at the half as the aggressive Cal State Northridge squad muscle their way inside the lanes, scoring 20 points in the paint and taking 13 free throws, hitting 10 of them.
That theme remained in the second half, with CSUN finishing with 46 points in the paint — a plus-18 advantage over St. John's — but with the game on the line, it was the Red Storm who made the winning plays to seal the victory. With 5:18 to play, St. John's held a 64-62 lead, but forced two straight turnovers before eventually stretching the lead to seven with just over 2 minutes and the game being closed at the free-throw line.
Darin Johnson led the Cal State Northridge with 16 points, while Tavrion Dawson (10), Kendall Smith (10), and Rakim Lubin (13) were among other double-digit scorers. Both teams shot around 44 percent but the difference was St. John's ability to knock down the perimeter shot, nailing 10 of 21 3-pointers compared to just 2 of 14 for CSUN.
"St. John's made 10 threes tonight. You can't make up that difference if you only match them with free throws," CSUN coach Reggie Theus said. "We're usually seven, eight, nine free throws more than the other team because of how hard we play and hard we go to the rim. But St. John's matched us in free throws."
For St. John's, the win marked the start of a new winning streak, a positive sign for Mullin, who will take them any way he can at this point in the overhaul of his beloved alma mater.
"We're in a position where any win is (important). Seriously, that's where we're at," Mullin said candidly.
He added: "For our young team, [any win] is important. In any sport and life in general, until you prove it to yourself, that's when you take the next step. I think the road win was good and playing tonight without one of our better players, you've got to be impressed. that's where you prove to yourself and where the real belief happens.