St. John's Snaps Losing Streak; Tops Georgetown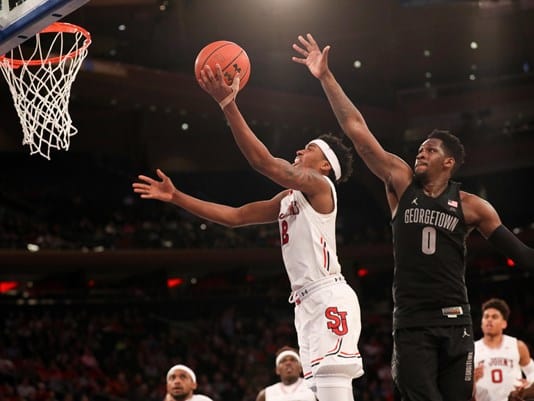 NEW YORK — St. John's continued to build on its bounce-back Big East campaign Saturday as it fended off Georgetown, 86-80, in a pull-and-tug affair at Madison Square Garden. The win ended a three-game losing streak against the Hoyas and was a solid response to a 28-point loss in D.C. earlier this season.
Four of the top scorers in the conference suited up as Rodney Pryor (No. 3) and LJ Peak (No. 9) challenged the high-powered backcourt of Marcus LoVett and Shamorie Ponds (Nos. 6 and 7). By the end of the game, Ponds separated himself as the top performer after making eight of his first 10 attempts en route to a 24-point game.
Pryor led the Hoyas with 22 points (8-16 FG) plus he added four assists and five rebounds. Peak scored 20 (6-10 FG) but struggling to maintain possession as he committed six turnovers, an early problem for him and his team as Georgetown finished the game with 22 giveaways.
On the other end, the nearly two dozen turnovers translated into 25 points for St. John's. In the opening frame, Georgetown committed 13 turnovers in less than 13 minutes and managed to score just 13 points. Keyed by back-to-back 3-pointers from Federico Mussini, St. John's ripped of a 17-0 run to jump ahead to a 29-13 lead.
"Federico was big because we were really struggling to get going," coach Chris Mullin said of the sophomore guard, who finished with 16 points on 3-of-4 from 3. "I thought he came in and was aggressive and made some shots, which he will do. But I thought also he was just scrappy on defense and that's always a bonus for a guy coming off the bench and giving us a lift. Probably more importantly, he put a little pressure on our guys to play up to that level."
"He's as valuable [as he was last year], minus the minutes, and one thing we had to do last year was have him on the ball all the time and it wasn't even fair. So he understands with Marcus [LoVett] and Shamorie [Ponds] and Malik [Ellison], that these guys can create shots for him and that's really his strength.
He's a consummate teammate. In general, those European kids are groomed the right way and they grow up, not only learning the game the right way, but are very focused on team and competition and winning
The Hoyas mounted a 17-0 run themselves in a bizarre first half as they only committed three turnovers heading to intermission and led 36-35. Holding a slim lead for much of the latter period, St. John's shot 17-20 from the free-throw line, including a critical pair of makes by Ponds after a late six-point lead was cut to one in the closing minute.
"I thought we got off to a bad start, lackadaisical, and our bench came in and gave us a big spark. And then we went back in the tank a little bit," Mullin said, "but at halftime we talked about playing the game like we played for about five or six minutes in the first half and we were fortunate to be down one point and really just tried to focus on being unselfish on the offensive end and staying locked in on defense and not gambling.
"In the second half, we did much better staying disciplined. In general, I think these guys feed off the crowd, for sure. I think they're comfortable playing here now. It wasn't always the case. I thought our first few games here they were not but now they are, so it's always good."