St. John's Opens 2016-17 Season Friday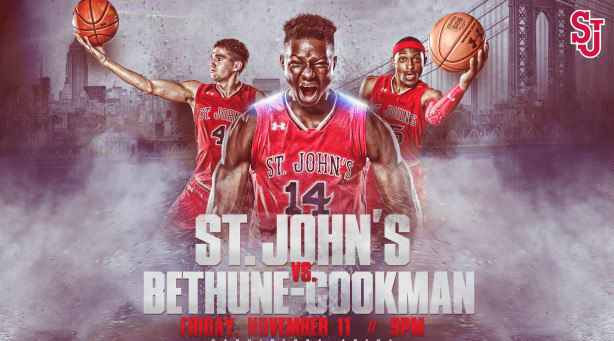 QUEENS, N.Y. (Nov. 9, 2016) – Following a long offseason filled with key infusions of new talent and heightened expectations for the future of the storied program, the 2016-17 St. John's men's basketball campaign will finally kick off on Friday night, as the Red Storm plays host to Bethune-Cookman at 9 p.m. inside Carnesecca Arena.
The game will be broadcast on YES Network in the New York Metropolitan Area with Rich Ackerman and Jim Spanarkel on the call from Queens. Fans can also catch the game on 570 AM WMCA, as John Minko and Brandon Tierney will narrate the contest over the airwaves.
The Red Storm, in its second year under Head Coach Chris Mullin, will sport an exciting mixture of new faces and returning talent when the team takes the court on Friday night. In addition to a number of players that saw key minutes during the 2015-16 season, the Johnnies welcomed one of the nation's top recruiting classes to campus this summer, led by Preseason BIG EAST Freshman of the Year Shamorie Ponds. Last season, the Brooklyn native led Thomas Jefferson to its first PSAL title since 1954, averaging 29 points, eight rebounds and six assists per contest.
In addition to Ponds, Bronx product and former NJCAA Division I All-American Bashir Ahmed will look to instantly contribute to the Red Storm on both ends of the floor, coming off a sophomore season that saw him take home Jayhawk Conference MVP honors at Hutchinson Community College in Kansas. Rounding out the trio of newcomers is German forward Richard Freudenberg, a 6-foot-9 natural scorer with the ability to beat defenses from anywhere on the court.
Joining these first-year players will be a pair of Johnnies seeing game action for the first time at Carnesecca Arena, Marcus LoVett and Tariq Owens. After sitting out last season due to NCAA regulations, this pair will look to make an immediate impact for Mullin in 2016-17. LoVett, a lightning quick point guard who played his senior year of high school in Chicago, and Owens, who started five games as a freshman at Tennessee in 2014-15, will finally take the floor after watching from the bench all last season.
The Red Storm welcomes back four sophomores that contributed significantly as rookies last season. Federico Mussini finished second on the team in scoring with 10.7 points per game last year and proved himself to be one of the nation's best from the charity stripe, leading the conference in free-throw percentage at 86.2%. Malik Ellison came on strong during conference play, averaging 7.7 points, 2.7 assists and 2.4 rebounds per contest against league opponents. Rounding out that group of second-year players is the frontcourt tandem of Kassoum Yakwe and Yankuba Sima, who ranked one and two, respectively, in the conference last season in blocked shots per game.
Bethune-Cookman is led by sixth-year head coach Gravelle Craig, who owns a record of 64-101 all-time at the university. The Wildcats and the Red Storm have met on one occasion in the history of the two programs, with the Johnnies claiming a 77-59 victory at Carnesecca Arena on Dec. 14, 2008.
After taking on the Wildcats in their opener, the Red Storm will remain home for a contest against Binghamton on Monday night at 6:30 p.m., a campus site contest in The Battle 4 Atlantis.