St. John's knocks off #13 Butler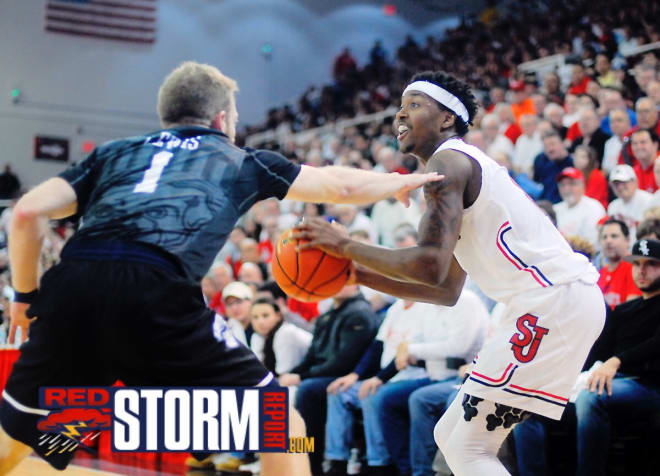 JAMAICA, NY - Rock bottom felt close when Penn State entered Madison Square Garden as visitors and pounded St. John's in its Garden opener. Shortly after, it looked like the Red Storm ascended to the top of the mountain — morally at least — as they traveled to Syracuse to thrash their former Big East foe in an historic upset in the Carrier Dome.
St. John's wants to spend a little more time at the top of the mountain, and the timing couldn't be better for coach Chris Mullin as he enters his second season of conference play at the helm of his alma mater. A seemingly rejuvenated Mullin coached his squad to another victory for the record books — this time a 76-73 win over No. 13 Butler in Carnesecca Arena.
The result was the program's first win in its Queens home arena over a team ranked that high since Mullin scored 19 points in an upset of none other than the Orangemen, who were also ranked 13th in the country, in 1983. More importantly, Thursday's game got a huge monkey off the backs of this young program: picking up a Big East win.
Last season, a conference win eluded St. John's until past Valentine's Day. This season, St. John's enters the new calendar year on the winning side of the standings despite a .500 record following an erratic non-conference showing that featured a five-game losing streak plus puzzling losses to Delaware State and LIU-Brooklyn.
"I wouldn't really categorize it as anything but a legitimate process," Mullin said afterwards, speaking on the turnaround of the program. "We all knew the situation we were coming into and to expect anything else would be somewhat unrealistic. Going through it is tough. Last year, we had a whole bunch of guys that knew the deal … part of the process is dealing with those emotions, the ups and downs and being able to focus.
"Games like this give them the confidence and the trust in each other that what they're doing is right. We preach that each and every day, but there is nothing like positive reinforcement."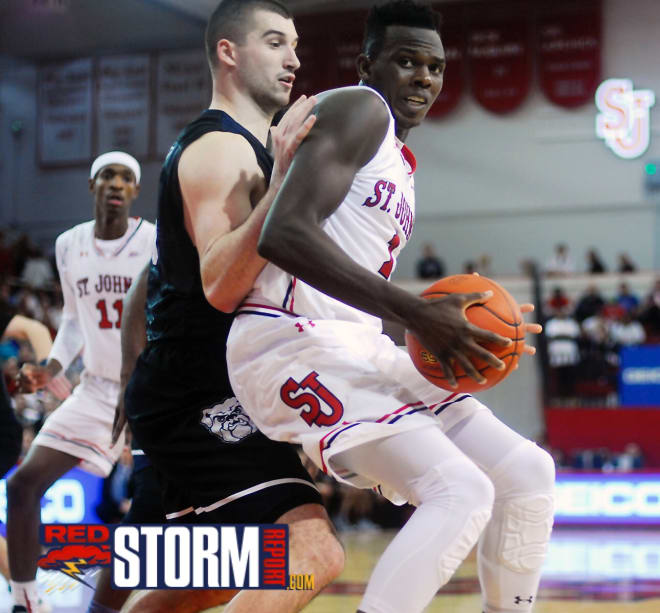 Both teams managed to withstand each other's best shot for most of the game, though Butler held the advantage with St. John's holding the lead for just 4:02 of play. The Bulldogs stretched their lead to 10 halfway through the second half, but the Red Storm responded with hard-nose defense down the stretch to keep things close as the final buzzer approached.
A Marcus LoVett miss with two minutes found its way in the hands of Malik Ellison, who quickly swung it to Shamorie Ponds and the freshman did not hesitate as he stepped into a 3 to cut the St. John's deficit to 69-67. On the ensuing possession, Ellison snagged a steal off a dribble handoff and scored a fast break dunk to tie the game at 69.
Ellison earned a trip to the free-throw line with 14 seconds and split the attempts to put St. John's up 72-71 before Ponds sealed the win with four free throws.
Ponds, coming off his second Big East freshman of the Week honors, poured in 26 points and grabbed seven rebounds. Bashir Ahmed added 19 points and five rebounds while LoVett had 10 points off the bench.
"We needed this win," Ponds said. "Syracuse was a big test for us. Going to Syracuse and beating them by as much as we beat them by, it was a good test for us. We feel like every game, if we come out and compete, we will be unstoppable."