St. John's Gets First Big East Road Win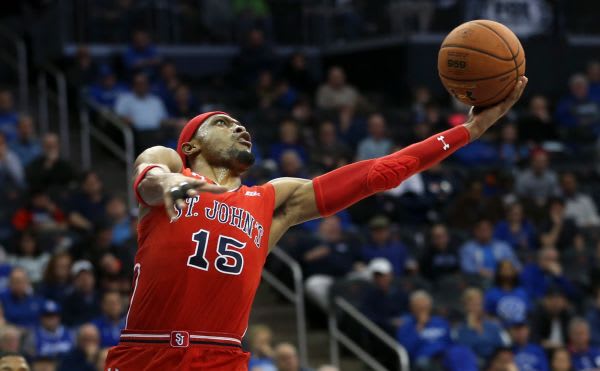 On most nights, you won't leave the opponent's arena with a win after letting them shoot over 60 percent — ultimately 10 percentage points higher than you. But consider this Red Storm team unconventional as they welcomed a shootout in Rhode Island and walked away victorious over Providence in a 91-86 affair Wednesday.
The big three of Marcus LoVett, Shamorie Ponds and Bashir Ahmed powered the offense through a winnable Big East road game against one of the more underwhelming teams in the conference. Manning the lead guard duties, LoVett shined from start to finish as he led with a game-high 26 points (10 of 15 FG) while adding three assists.
Ponds regained his refined outside touch, sniping four of five 3-point attempts en route to a 22-point game. Fellow New York City native, Ahmed scored 15 points before fouling out of the back-and-forth contest. Malik Ellison's 15 points gave the St. John's offense, which shot 53 percent overall, four double-digit scorers.
"We have good shooters," Mullin said. "Our problem has been getting good looks and moving the ball. Tonight was a little deceptive. I thought the ball moved really well, we had 10 assists, but I think at the end of the shot clock we were going off dribble penetration a lot.
"It was kind of a crazy game."
So crazy the game was tied on 13 different occasions. The lead changed hands 15 times.
A pull-up 3-pointer from LoVett to beat the halftime buzzer sent the Johnnies into the locker room comfortably ahead 46-37 but the Friars came roaring back. A jumpshot in transition by Rodney Bullock tied the game at 51 with 16:21 and the teams exchanged leads heading down to the final minutes.
Another bucket from LoVett — this time a swift fadeaway on the left wing — put St. John's up one with less than four minutes to play but the Johnnies failed to get back to the other end of the floor before two advance passes gave Jalen Lindsey a wide open 3 to retake the lead.
"I thought we played good defense, yet they shot 62 percent," Mullin said. "It was a high-level offensive game, but I did think it was pretty physical, and the defense was there, but both teams played really well on the offensive end.
"For the most part, we've scored the ball pretty consistently. … I thought we would both go down a little; it seems that both teams really played at a high-level efficiency-wise, and we just got a few spurts.
A late go-ahead bucket and few crucial defensive stops secured the win for St. John's as it won its fourth Big East game of the year -- first away from its New York confines -- exactly halfway through the conference schedule. With nine to play, five at home, Mullin's crew has a chance to trend favorably towards the end of the season and into next year, when expectations will be full throttle.