St. John's 3-pt Explosion Ends 5-Game Skid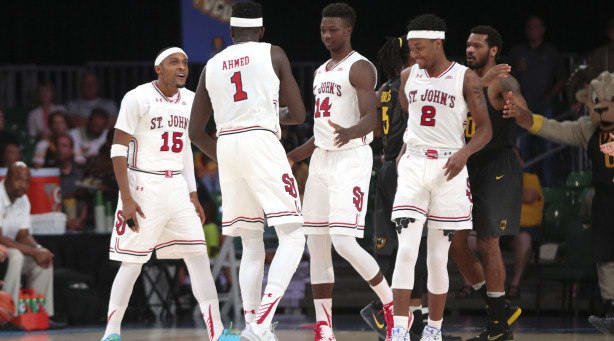 The bleeding has stopped. The Red Storm faithful can breathe a sigh of relief as a 20-point blowout in the Big Easy saw St. John's (3-5) pick up its first win in nearly three weeks, ending a five-game losing streak.
The 3-point line was unkind to St. John's in a surprising home loss Tuesday against Delaware State. (The Johnnies shot 32 percent). Naturally, the young group put that behind them and came out in their next game and tied the program record for 3's made in a game with 16 bombs to secure a 95-75 win over Tulane (1-6).
"I thought our energy was really good," coach Chris Mullin said. "We had a tough week and we really just addressed things with each other, tried to get better each day and learn from our mistakes. I thought tonight defensively we were very active, but more importantly, the ball movement was great. We played unselfishly on both sides of the ball and got rewarded for it."
After a career-best 19 points last outing, Bashir Ahmed continued his strong play, adding 19 points on 6/11 (4/7 3-PT) to a seven-rebound, four-assist night. Marcus LoVett finished with 18 points (3/3 3-PT) while dishing out five assists and his backcourt partner, Shamorie Ponds, added 15 points (4/5 3-PT) with four assists.
All three players — pivotal factors in both the short and long term success of this program — set the tone of the game quickly, piling up the 3-point shots as St. John's jumped ahead 15-8 in the opening four minutes. In a matter of moments, St. John's held a 15-point lead by of 10 3-pointers.
"You know it's not going to last and you're also thinking, we need to get some layups and two's because you can't live like that," Mullin said of the early 10/11 3-point start. "When you watch a game it's probably more how the [shots] are created. If they are open and created by teammates, you probably live with it even if they are not going in. I try to teach them that those three point shots are a great weapon if they are created the right way."
As the game continued, the result became a foregone conclusion as St. John's took a 51-32 lead into the half. It became a waiting game to see whether they'd tie the school record for 3's. As the clock hit 3:28, Bashir Ahmed drained his fourth of the game — and the pressure was off.
For the first time in a while, everything clicked. And Mullin knows it may not day in and day out, but in the long haul, games like tonight are positive steps.
"We are a young team still trying to find ourselves," Mullin said. "We have several one and two year players. This is their eighth game together. It takes time. Although, it was hard to go through [a loss like we did], that's really when you can show true character and grow as a team. I thought we did a good job handling [the loss] the last two days and we came out and performed well tonight."