Red Storm 2017-18 Sneak Peak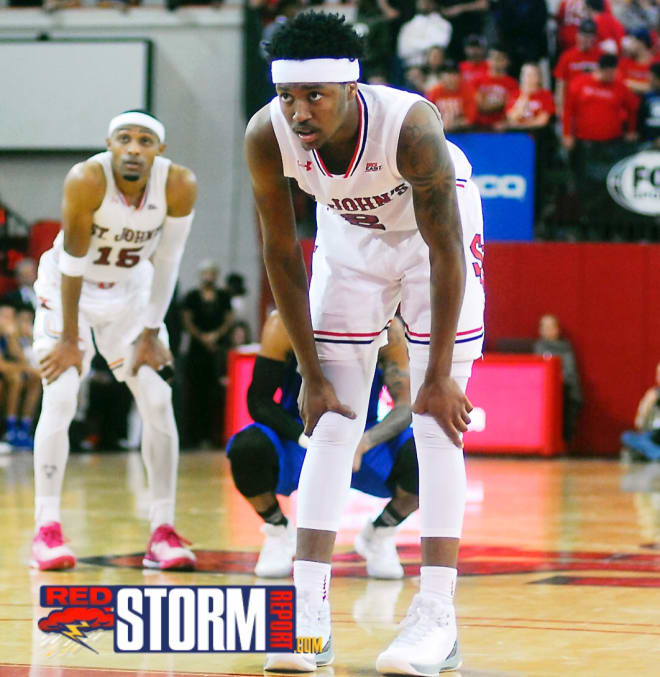 Over two months have passed since the conclusion of St. John's 2016-17 season, which saw the Johnnies go 14-19 (7-11 Big East) as they advanced to the quarterfinals of the conference tournament before being bounced by Villanova. The second season under Chris Mullin marked an overall six-win improvement with a core featuring a heavy concentration of first- or second-year contributors.
Carrying postseason aspirations into next season, a major factor in accomplishing that task for the first time since 2015 is non-conference scheduling. The NCAA selection committee places a heavy emphasis on quality of opponents faced prior to conference play, so St. John's, which returns two of the Big East top scorers in Marcus LoVett and Shamorie Ponds, will need add meaningful competition to its non-conference slate — and win more times than not.
Sitting over five months ahead opening day, next year's schedule remains a work in progress. The complete schedule will likely be revealed around the start of fall semester. But details about the schedule have slowly crept out over the months. It's never too early to look at what's on already on tap:
Nov. 23-26: West Virginia, Nebraska, Missouri, Oregon State, Central Florida, Long Beach State, Marist
Last November, St. John's was announced as one of eight participants in the 2017 AdvoCare Invitational, sending the Johnnies to the Walt Disney World Resort near Orlando, Fla., for Thanksgiving, joined by a quartet of power conference opponents.
*Dec. 5: Grand Canyon (Phoenix)*
Dec. 8: Arizona State (L.A. - Staples Center)
"We look forward to participating in the 2017 Basketball Hall of Fame Classic at Staples Center," said coach Chris Mullin, who will lead his team against Bob Hurley, Jr. "It's a first-class event at a renowned venue and it is always an honor for our program to be affiliated with the Naismith Memorial Basketball Hall of Fame." USC and Oklahoma meet on the other side of the doubleheader.
Feb. 3 Duke (MSG)
Neither school has formally announced the reported match up, however St. John's assistant coach Matt Abdelmassih seemed to confirm the event on Wednesday via Twitter. Athletic director Anton Goff also tweeted he would like to add "one or two" marquee opponents like Duke annually at the Garden.
Feb. 28-Mar. 4: Big Ten Tournament
Obviously, St. John's won't be competing in the Big Ten tournament, but the Midwest-based conference has attempted to make inroads on the mid-Atlantic region and its latest play will be to compress the conference season to play the postseason tournament a week early in Madison Square Garden. As a result, those dates will be unavailable for St. John's games in the venue.
Mar. 6-10: Big East Tournament
Note: ** = unconfirmed
Lastly, athletic director Anton Goff tweeted St. John's will not play at Barclays Center or Nassau Coliseum next season.