One-Two Punch Powers SJU In Season Opener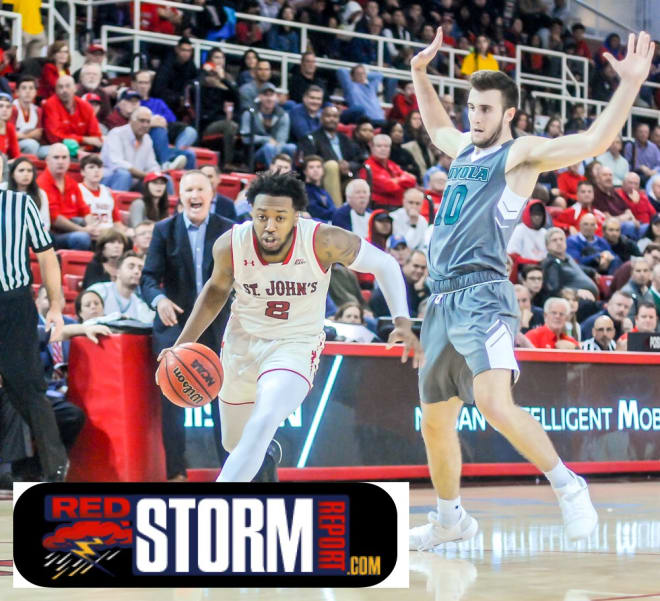 The new-look Johnnies made its season debut on Tuesday and — keyed by its dynamic one-two punch of Shamorie Ponds and Mustapha Heron — picked up its first win of the 2018-19. The juniors combined for 35 points, 7 assists, and 5 steals as St. John's (1-0) cruised past Loyola Maryland (0-1) inside Carnesecca Arena.
The energy inside the arena was buzzing as St. John's came out the gate playing well on both ends to jump out to a quick double-digit lead that ballooned to 20 in the first half. A long-range 3-point shot from Shamorie Ponds gave the Red Storm a 48-23 edge but they were outscored 32-28 in the second period, much to the dismay of coach Chris Mullin.
"We were really good in the first half," Mullin said. "Great defense. Great activity. For the most part we ran our offense pretty well. I think that's going to keep getting better as they play more together and get some minutes.
"We threw out a lot of different lineups on the court and that's what we intend to do all year. The combinations are going to take some time to get better. I think Shamorie and Mustapha have a great feel for the game. They've played with each other in the past before college. They're two very skilled, smart players. I'm not really concerned about that."
A few quick-hitters following Tuesday's game:
— Foul Trouble: "We committed a lot of fouls," Mullin said after his team sent Loyola Maryland to the free-throw line 32 times. "Playing defense without fouling is something we have to get better at, but I rather be more aggressive and tone it down a little bit and be a little smarter than the other way around."
— Sedee Keita is St. John's primary interior presence but struggled to make a positive impact on the court. He picked up 2 fouls just 1 minute after checking in for the first time before ultimately fouling out with 0 points in 10 minutes. Justin Simon and Marvin Clark (4 fouls each) both were limited because of foul trouble.
— Frosh Watch: Chris Mullin elected to not play any freshman in the team's exhibition last week, partly due to St. John's failing to sustain a comfortable lead. Greg Williams Jr. appeared midway through the first half on Tuesday, behind guards Bryan Trimble and Mikey Dixon in the rotation, and played 12 minutes. His fellow 2018 classmates each entered the game at the under-4 timeout and played the closing minutes of the game.
— JUCO transfer LJ Figueroa continues to be a walking highlight reel as he showcased his eye-popping dunks and tenacity on the defensive end of the floor. He finished with 9 points and 8 rebounds as he picked up the start after a strong offseason.