No. 10 Creighton Ends Johnnies Winning Streak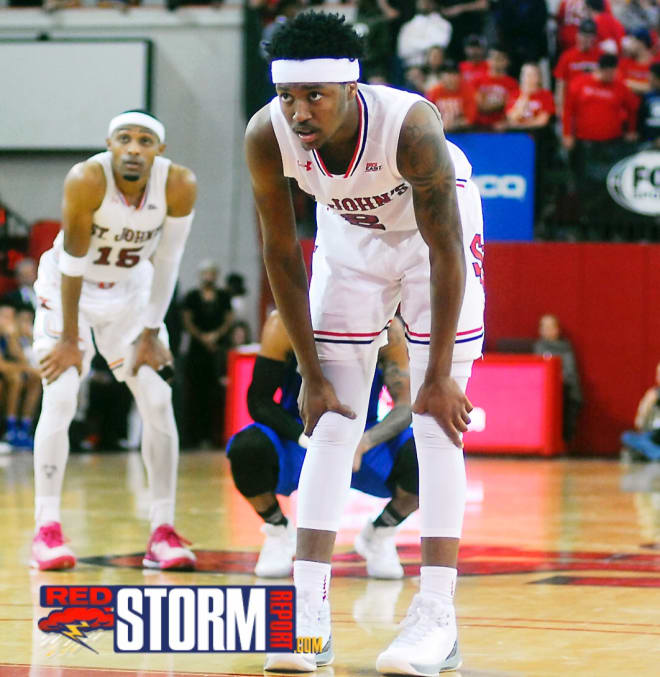 JAMAICA, N.Y. — The last time Carnesecca Arena was roaring with a crazed Red Storm crowd whom occupied nearly the full capacity of the legendary gym was… less than a week ago, But the 4,928 on hand Wednesday may have felt like they were watching a different St. John's team than the one that upended then-No. 13 Butler
Hosting another highly ranked opponent, St. John's (8-8, 2-1 Big East) didn't get up for No. 10 Creighton as fans have seen in recent games against the Bulldogs and previously at Syracuse. Instead, a slow start offensively, miscues defensively, and a belated comeback effort led to the Red Storm losing 85-72 to Creighton (14-1, 2-1).
The result ends St. John's three-game winning streak, which tied the season-best string of victories, and leaves No. 17 Xavier as the lone team undefeated in Big East play as it hosts the Chris Mullin & Co. on Saturday.
Shamorie Ponds scored 17 points on 6-of-13 against the team he called by far the toughest team he's faced in his early college career. Marcus LoVett added 21 points on 4-of-5 from 3-pt range and Malik Ellison stuffed the stat sheet — a growing reoccurring thing for him — with seven points, five rebounds, seven assists, and two steals.
St. John's Boxed Out by Blue Jays
Coming out the gate, the first bucket by a Red Storm did not come until four minutes into the contest, when substitute Tariq Owens entered and drained a midrange jumper near the baseline — ending an 0 for 6 start for his team — to cut into Creighton's quick 7-0 advantage.
After falling behind, 24-11, St. John's would close the half shooting 32 percent from the field while allowing Creighton to shot 58 percent as the 44-26 margin at halftime would eventually balloon to 24 coming out to start the latter period.
The early shooting woes and horrid defense rotations were ultimately the difference Wednesday. St. John's missed 15 of its first 20 shot attempts, a recipe for disaster no matter how talented a team is, but it eventually found the net, connecting on 14 of the next 31 attempts though second half.
"I thought we were a little stagnant," Mullin said. "I thought we were moving so slow. Coming off screens and getting into pick-and-rolls, we were just too slow, to me. and they were the opposite. They're not only quick on offense, they are quick on defense so you have to attack them."
On multiple occasions the backcourt duo of Ponds and LoVett gave St. John's a fighter's chance — Ponds finishing a three-point play to make it a 10-point deficit then LoVett slicing through the lane moments later to bring it as close as eight with six minutes to play.
But a poised Creighton squad would answer the call. Maurice Watson answered LoVett's score with a backbreaking 3-pointer to stretch the lead back to double-digits and the Bluejays walked out of the arena with a win in a contest coach Greg McDermott said he was "scared to death" of.
Justin Patton was a handful for St. John's in the paint, scoring a career-high 25 points and grabbing nine rebounds with four assists. Watson had 19 plus Marcus Foster added 15.
"I told our team at halftime: 'The games we played well it didn't just happen, we made it happen.' That's something you have to go out and do," Mullin added. "And I thought they were going to kind of stumble into it, but that's never the case. To get good shots you have to cut hard, screen hard and be aggressive. We know that, we've done that, but just not tonight."