New-Look Johnnies Roll in Season Opener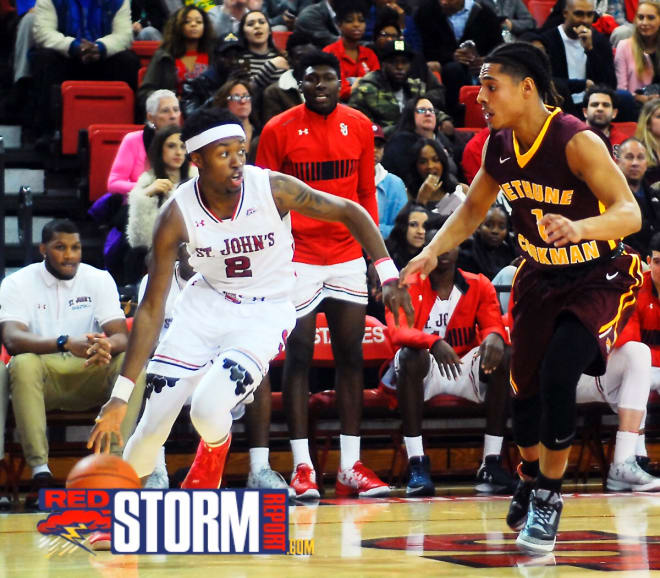 JAMAICA, NY - Amid an early season blowout, crowd energy typically hits a lull as the waning moments of the contest arrive. The players they came to see are usually resting on the bench at that point. And guys at the end of the bench are taking advantage of that time on the court to show their coach they're capable of picking up some meaningful minutes if needed.
A crowd of 4,371 at Carnesecca Arena peaked its decibel meter on Friday night as senior big Darien Williams scampered to the basket — one of several fast break opportunities he found late in the game — and flushed home a dunk with 45 seconds to cap St. John's 100-53 over Bethune-Cookman.
"That moment was pretty cool," said Tariq Owens, a redshirt sophomore making his St. John's debut. "Everybody got a chance to get into the game and play tonight. Darien, as you've seen, is one of our goofier players on this team. When he gets in and he scores, it's fun. We really enjoy playing with each other. This is a real family and we really love playing with each other."
The 100 points scored tied the most produced under a Chris Mullin-coached squad, hitting the century mark last November versus Chaminade. The Johnnies have a much improved roster this year compared to last season's makeshift team.
Federico Mussini no longer has to run the show as a point guard. Instead, the Italian is freed up to spot up, pick his shots, and create plays for others as they come. The result: 20 points (game-high) on 5 of 6 shooting from 3-point range in just 18 minutes.
"This year we have more confidence because we know we have more talent," Mussini said. "We have more players in our rotation and we feel pretty confident about that. The most important thing is to react from last season. To show we want to get back and we can be a good team. Last season was not good and we have to show we are different now."
Freshmen Marcus Lovett (19 points, seven assists) and Shamorie Ponds (eight points, three assists, a block and steal) will both take turns as interchangeable point guards. Mussini enjoys their presence in the backcourt.
"It feels good. [They] are both great passers and have the ability to find me or anyone else on this team for open shots," Mussini added. "They are really unselfish, as are a lot of guys on this team. Everybody is willing to make an extra pass or do whatever is needed to help."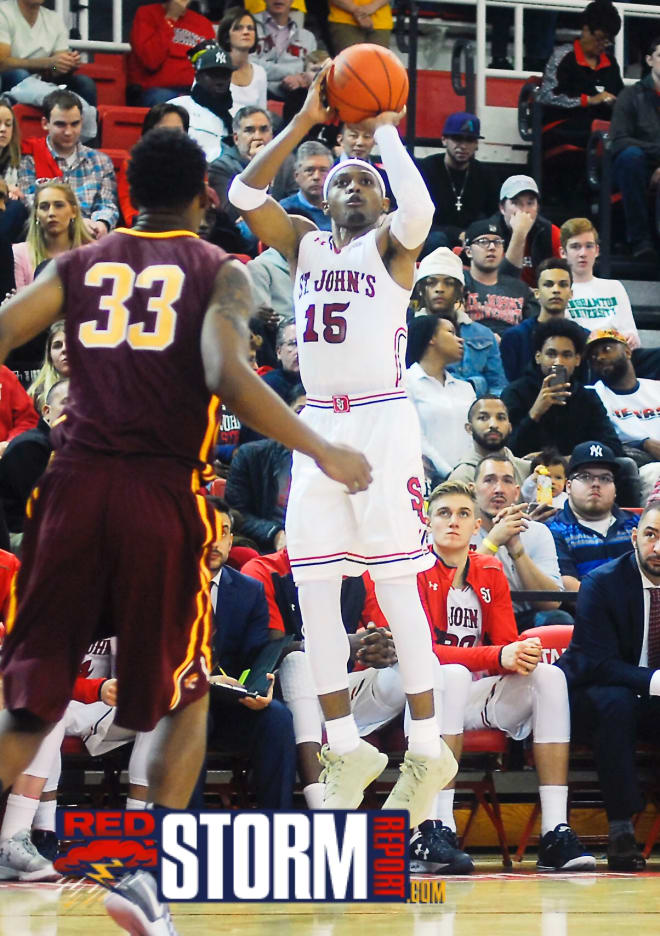 Mullin opted to start the game with a lineup of Owens and Ponds with Yankuba Sima, Bashir Ahmed and Malik Ellison, who missed most of the preseason with an elbow infection. Coming out the gate, Bethune-Cookman got off to a hot start from 3, taking a quick 9-6 lead in the opening four minutes.
Ponds dove for a steal and found a streaking LoVett for a fast break finish, which was sandwiched by a pair of 3's from Mussini with 13:48 left in the half. Another 3, this time by Ponds, stretched the lead to 18-11.
"We really haven't had a starting lineup," Mullin said. "I've been trying to mix and match almost all different combinations I want to use. At some point, everyone is going to get their minutes. I want these guys getting comfortable playing with each other."
By the time half began to wind down, nine different Johnnies registered points — a welcome sign for pundits looking for signs of an improved roster. A scoring outburst by LoVett, including a step back 3 after a timeout, sent St. John's into the half with a 47-31 lead.
LoVett started the second half, joined by Ponds in the backcourt plus Ahmed, Ellison and Owens.
And things only got better from there as the speedy lineup showcased explosive offensive potential as they scored the first 16 points of the half as the lead ballooned to 30. The Johnnies shot 70 percent in the second half, making 17 buckets — three less than how many they allowed on the other end of the court for the duration of the entire game.
"After the game, I told them the thing I liked best was 21 assists on 33 made baskets," Mullin said. "Overall, our defense was what made things happen. It was a good game. We shared the ball and when you play like that all your teammates can be involved which is nice."