Mullin Ready for New Debut as 2nd Season Begins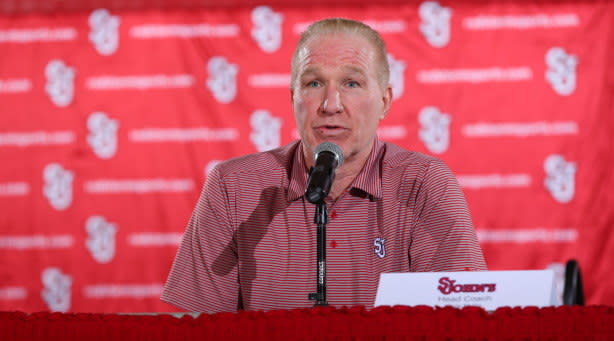 Although Year 2 under Chris Mullin is underway, it feels like a lot like a new beginning for the St John's legend turned coach as he enters the 2016-17 season with a deeper roster of promising talent.
Nearly exactly 19 months removed from his hiring, which offered a team devoid of reliable options with high-major playing experience similar to its forthcoming first-time coach, Mullin is ready for a new beginning at his alma mater.
"We're in a unique situation where really each and every guy is a newcomer," Mullin said Thursday on campus at St. John's media day. "Last year, myself included, we kind of went through a process for the first time. We inherited some guys, so really this offseason was the first time we got together as a team so really everyone is a newcomer."
Following a forgettable 8-win campaign that featured a school-record 16-game losing streak in Big East play, this year's group returns a core of players who've already gone through growing pains, combined with a handful fresh faces.
"Going through a tough season like we did," Mullin said, "that's going to be fresh in our mind each and every day in practice and of course game time to change those results.
"So having a core group of guys come back, and adding to that, it just helps integrate (new players) as oppose to 14 individuals coming in," Mullin said. "I was kind of overwhelmed with the language barrier and all that stuff, and just having 14 new guys where each and every practice you're really explaining to 14 people to get one drill."
Now, top recruits Shamorie Ponds and Marcus LoVett, in addition to Juco transfer Bashir Ahmed, are poised to join the returning core of Federico Mussini, Yankuba Sima and Kassoum Yakwe to form a stable building block for the Red Storm rebuild.
"It's always nice when you have teammates that get along," Mullin said, "and have some similarities and differences that bring them together.
"I've told the guys: What's more important is when you need a guy the guy next to. And I think we have a group of guys that have distinct strengths and maybe where their weaknesses lie, the guy next to them has that opposite strength and weakness and I think we can use that to our advantage."
Practices have been much more competitive compared to last season, according to Mullin, who is enjoying finding process of figuring out which lineups are most effective.
"It's really important to have high quality practices and that's really where we emphasize on improvement," Mullin said. "I like the fact that at each position we have someone to push the guy competitively."
He wouldn't tip his hand on any final lineups as the team prepares for an exhibition on Monday versus Baruch, but he did admit that among his several trial pairings, a three-guard lineup of Lovett-Ponds-Mussini with Ahmed on the perimeter and Yakwe inside.
"One of the huge advantages we'll have this year is playing multiple lineups," Mullin said. "I love having interchangeable parts."
A simple two-fold adage from Lou Carnesecca will serve as a guiding principle for Mullin as he strives to keep things simple: "Put it in the basket and get good players. Don't make it too complicated."
The players are better this year, and Mullin expects to turn the page from last season's gruel trials and tribulations.
"We feel like this is really our debut."