LoVett Won't Return to SJU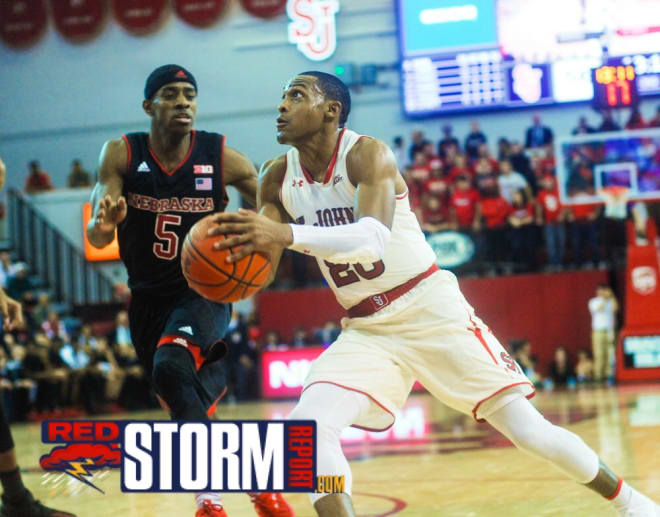 The Marcus LoVett era at St. John's has formally ended as of Saturday with the program announcing the redshirt sophomore is leaving the school to pursue a professional basketball career.
The news doesn't come as a surprise to anyone who's been following the estranged relationship between Lovett and St. John's over the past few months, but it finally gives clarity on the team's outlook going forward.
Originally arriving as the crowned jewel of Chris Mullin's first recruiting class in 2015, the former four-star recruit has only appeared in 37 of (at least) 96 possible games in three seasons on campus after being ruled ineligible due to academics in year one then battling injury this current season.
The 6-foot speedster suffered an undisclosed knee injury on Nov. 26 versus UCF while St. John's competed in its holiday tournament. While an MRI revealed no structural damage, he was considered day-to-day to return — until he decided he wouldn't return this season.
Following a loss to Georgetown in Madison Square Garden, Mullin said on Jan. 9 he expected LoVett to return to the practice court the next day to take the next step in returning to game action, however that never manifested. Less than 24 hours later, LoVett's father, Marcus LoVett Sr. announced on Twitter his son will sit out for the remainder of the 2017-18 season as continues to rehab.
Mullin explained later that LoVett was still experiencing discomfort in his knee and wasn't prepared to return to basketball but maintained as recently as Feb. 3 that LoVett was still part of the program despite no longer attending home games after shutting down for the season.
"Right now, I feel it is best for me to return home, get healthy and explore all options for my basketball future," LoVett said via St. John's press release. "It has always been a goal of mine to play professional basketball, so I am committed to working hard to position myself for the best available opportunity. I enjoyed my experience at St. John's and appreciate all the support from Red Storm fans."
His absence from the team bench, alongside an 11-game losing streak to open Big East play, hovered around the program as his potential return beyond this season looked to be in doubt. Then he resurfaced at Madison Square Garden on Feb. 3 for the Duke game, sitting in reserved court-side seats away from the bench, though he eventually made his way to the team bench by the time the game wrapped up.
LoVett becomes the third player in the last two years to leave St. John's early for a professional career (Richard Freudenberg, Germany; Federico Mussini, Italy). St. John's backcourt for next year is expected to feature Justin Simon, Mikey Dixon and Shamorie Ponds with support from Greg Williams and Bryan Trimble.