Johnnies Pass Opening Test, Tops Binghamton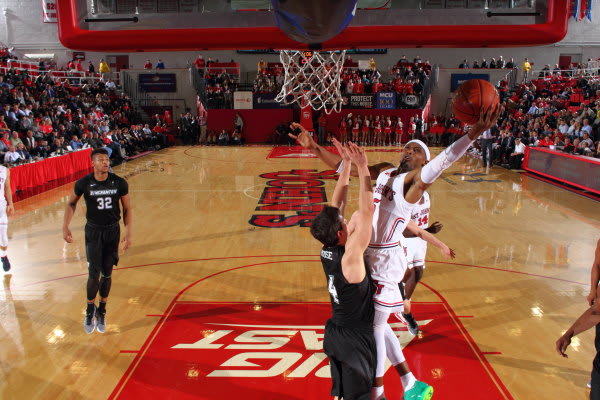 "Help, Sima! Help!" yelled coach Chris Mullin to his 6-foot-11 center as Binghamton inbounded the ball. Yanukba Sima quickly came over to trap the ball handler right in front of the St. John's bench, which led to an errant past to Federico Mussini and eventually found its way to Sima for a fast break slam.
The Johnnies were in the middle of a 15-0 run that sealed the game just 8 minutes into the second half. But Mullin wanted his team to keep their foot on the pedal, especially after lapses on defense and missed rotations left the Bearcats with clean looks from the perimeter — and they hit five from beyond the arc in the opening 20 minutes.
That run pushed St. John's ahead 58-39 then it coasted to a 77-61 win on Monday in Carnesecca Arena in front of newly hired athletic director Anton Goff and the 4,969 attendees.
"They turned us over too many times," said Binghamton coach Tommy Dempsey. "They have good athletes and good depth and they turned us over with their press. If you're going to come in here and try to upset a team from the Big East, you can't have 21 turnovers.
"I thought our kids played hard. I thought they played well, but overall it was too many turnovers. We held our own on the glass and did a lot of things we needed to do to win the game, but we turned it over too many times."
Those 21 turnovers led to 23 points on the other end — most times by standout guards Shamorie Ponds and Marcus LoVett. The duo started their first game together as a backcourt and the balance of power was ideal for anyone weary of how the two would manage playing together.
Ponds scored 21 points (7/11 FG, 4/6 3-PT) while grabbing a game-highs 10 rebounds and three steals. His partner, LoVett, led all scorers with 23 points (9/16 FG, 5/11) while adding four assists and four rebounds.
"When the game got tight, [Marcus LoVett] and [Shamorie Ponds] made a lot of difficult shots," Dempsey added. "Our defense was solid, I thought we stayed under the ball very well and forced them into some difficult shots but those guys are talented enough to make them."
The first half ended on an emphatic put back dunk by Kassoum Yakwe off a LoVett miss, and St. John's took a comfortable 39-32 lead into the locker room. But the team wasn't satisfied with their performance coming out the gate.
"It was all about our energy," Ponds said off the difference between halves. "When we went into the locker room, [Coach Mullin] said our energy wasn't where he wanted it to be, so we just had to pick up the energy in that second half."
Nevertheless, they'll take the win and move on to their next challenge: a pair of Big Ten teams. St. John's travels to Minnesota to take on the Golden Gophers before meeting Michigan State in the Bahamas, part of the Battle 4 Atlantis.
"The schedule is laid out the way it is. We know that's been coming," Mullin said. "We've been preparing well. These next games will be a step up physically. The [Big Ten] is a physical conference, it always has been. We'll prepare and get ready for it. I've told this team that when you're on the road, you really need each other."