Game day Preview: Red Storm @ Butler.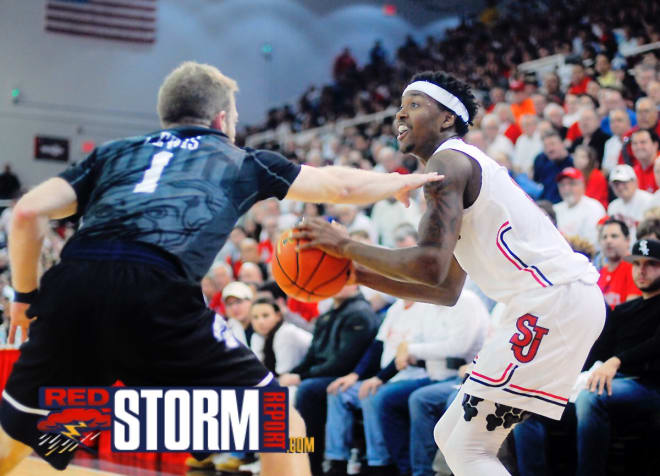 St. John's made a statement in its Big East opener last December as it shot a blazing 54 percent from the floor in Carnesecca Arena to upend a top-15 Butler team. As the two meet Wednesday to finish the season series, the Johnnies are in position to complete another sweep in conference play (DePaul).
No. 24 Butler enters the contest losers of two of its last three and have a two-game losing streak at home, where the Bulldogs haven't claimed victory since Jan. 15. Conversely, the Red Storm have two of their last three, including wins over a pair of NCAA Tournament-hopefuls (Marquette, Seton Hall).
"We're taking a step every day," said Marcus LoVett, who was named Big East Freshman of the Week on Monday. "Slowly, we're progressing and that's what we talk about in practice and the coaches stress just trying to get better each and every day in practice."
As of Wednesday afternoon, St. John's sits at fifth place in the Big East standings -- one spot below the Bulldogs, who hold a two-game cushion.
Chris Mullin's squad, picked to finish eighth in the conference by coaches, has surprised many this season. The recipe has been simple, according to the second-year coach.
"If we play really tough defense, smart and tough, and show some resistance and play unselfish on the offensive end," Mullin said, "I think we can play with just about anybody. We've shown we can be dangerous to our opponents and we can be dangerous to ourselves. We just have to make sure we are dangerous to our opponents more often."
Here's the need-to-know information for the Big East match:
Opponent: Butler (19-6, 8-5 Big East)
Last meeting: 76-73, St. John's.
St. John's in all-time series: 4-4
Tip off time: 8:30 p.m.
Location: Hinkle Fieldhouse
Injury Report: Malik Ellison (thumb) and Darien Williams (ankle) are two names to watch as tip off approaches.