Cole Takeover; SJU Goes 2-0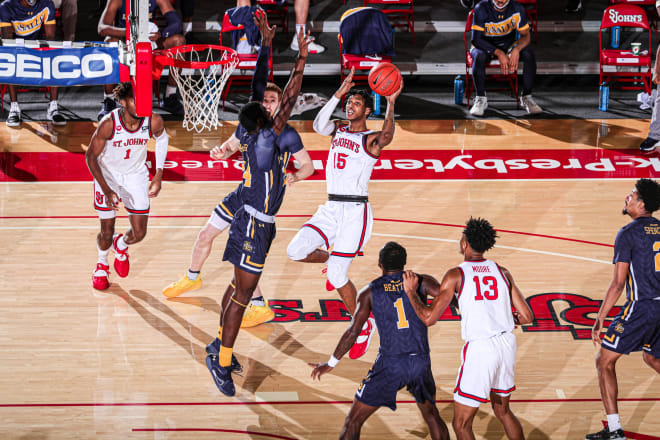 Throughout the pre-season, St. John's affiliates and those given a brief glimpse of a relatively new look squad spoke glowingly of the high scoring potential in guard Vince Cole.
The JUCO transfer spent such time registering his presence as a prolific scorer. He possesses innate scoring spurt-ability, a component which enables him to kick start and cap runs as a poised shot maker.
The promising thoughts on Cole have proved prophetic early on. The three-point assailant transitioned instantly to St. John's suped up style of play, surfacing as a catch-and-stick source capable of pioneering a team.
It was Cole's 21 points (8-for-12 FG), on the strength of a sizzling 5-for-6 from 3-point territory, and game winning 3-pointer which catapulted the Red Storm to a pulsating 76-75 win over St. Peter's in the home opener.
Many preseason assessments of this year's St. John's team concluded that Mike Anderson's program lacks a feature scorer capable of taking over games and willing the team to victories.
Cole has made quick strides in putting the kibosh on that perspective during the team's 2-0 start.
Cole, who averaged 21.4 points and shot 51.8 percent from the field and 45+ percent from 3-point range during his recent All American season at junior college USC Salkehatchie, has also been able to dispel the notion that there is little defensive effort in the JUCO ranks.
Cole has hit shots through draping close outs, sidestepped defenders on his surges to the rim, and proven he can score as the focal point and with heightened defensive pressure.
Cole again led the Johnnies, scoring a game-best 19 points during a thorough 82-65 throttling of LaSalle on Thanksgiving Day.
The win was underscored by augmented bench depth, as Anderson was able to employ 10 guys comfortably and receive significant contributions across the stat sheet.
Dylan Wusu, a bullish 6-foot-4, 235-pound freshman from local NYC power Our Savior Lutheran, scored 10 points and pulled down six boards in 26 minutes.
St. John's also got production out of Josh Roberts, the rugged forward from Montverde Academy Prep (FL). Roberts pulled down four boards, came up with four steals, and helped seal the net shut with a pair of blocks. Jumbo 6-foot-6 240-pound Marcellus Earlington scored 14 points and Greg Williams Jr. added 13.
LaSalle was paced by former Mount Zion Prep (Md.) star Ayinde Hikim, the ultra-quick 5-foot-9 guard who scored 14 points.