Ahmed powers St. John's exhibition over Baruch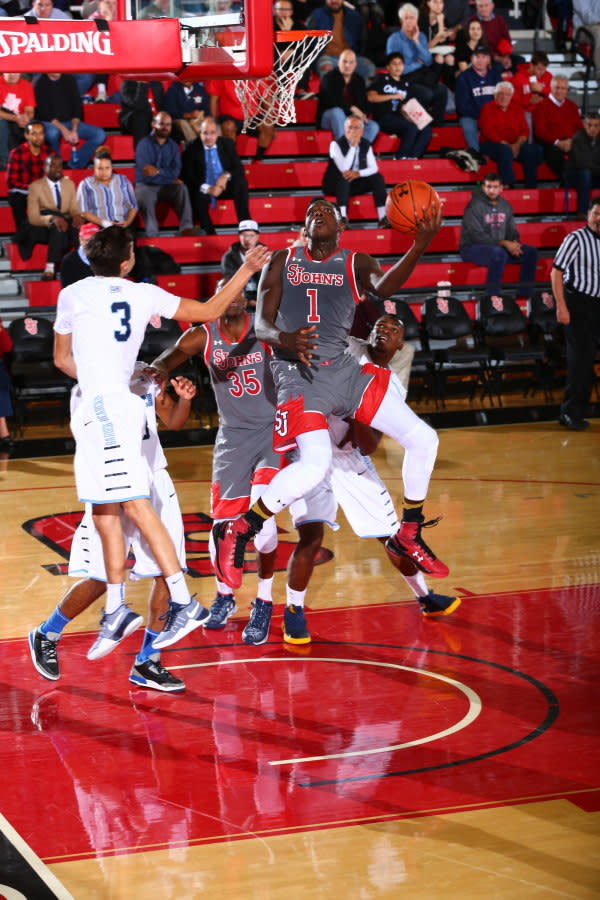 JAMAICA, NY - Bronx native Bashir Ahmed has made waves around basketball circles with high praise from those who've seen St. John's practice in the preseason. On Monday, fans and local media got their first extensive look of the touted JUCO transfer in a competitive environment as the Red Storm welcomed Baruch to Queens.
In front of a handful friends and family, Ahmed powered St. John's offense with 19 points (7 of 11 FG) and four rebounds en route to a 50-point exhibition over their fellow New York City counterpart.
"It felt good," Ahmed said of playing his first somewhat meaningful minutes in Carnesecca Arena. "It felt amazing to be out there. First game, I got a chance to play in front of my family … I was just happy to be out there."
The 99-49 win for Chris Mullin over longtime friend John Alesi, whose father, Jack, coached the Hall of Famer at Xaverian High School, was a welcome sign for the Red Storm program as it kicks off the new season on the right foot. Last season St. Thomas Aquinas walked in and handed Mullin a 90-58 thrashing in his first time on the sideline.
"It's always important to learn from your experiences," Mullin said. "I don't think we want to really harp on the past but you do want to learn from it. Probably more importantly is we focused this summer and past month working hard, working together and being unselfish, all the things that really matter to make a change.
"I remember games from when I played we had bad games. That's an experience you go through but you want to use it in a positive way; don't let it drag you down. But also, you remembers those feelings, no question, but it's more important the action you take to change the outcome of those things, and I think they've done a good job of doing that."
The memory of last season still looms in the minds of returning players. It's became a driving force and in-house bulletin board material to ensure that history doesn't repeat itself. And you can put Federico Mussini atop the list of players who look like they won't allow another 8-win season.
The Italian international played primarily in the lead guard position, a seemingly less natural fit for the spot shooter. With the addition of Shamorie Ponds and the now-eligible Marcus LoVett, Mussini is embracing a new role this year as the sophomore, who spent time this offseason adding muscle, is free to look more for his shoot, while others facilitate.
"If you ask someone to do too much, it's going to catch up to you," Mullin said. "But with Federico, the most impressive thing is it never affected his attitude, his work ethic. He's a special kid, he's going to figure it out. Another kid with a high basketball IQ, he knows what he can and can't do and we can put him out there with any four guys and he'll fit in."
Mullin hasn't settled on a permanent rotation, but for the exhibition Ponds and Lovett got the start in the backcourt with Ahmed on the wing plus Yankuba Sima and Kassoum Yakwe inside. Coming out the gate, the unit struggled on offense early missing their first five shots and turning it over four times.
But their active defense kept them close, then Ahmed and Mussini took things from there as the duo matched Baruch's offensive output (18 points) with 7 minutes left in the first half. Richard Freudenberg scored a buzzer-beating layup through contact to score his 10th point in 11 minutes and sent St. John's to halftime up 50-26.
"When we got a hang of it, I felt like everything just started rolling for us," Ahmed said. "We started moving the ball around and stuff started coming easy."
Ponds and Lovett struggled to find the bottom of the net in the first half, but used the latter period to find some rhythm to turn in respectable finishes as the two started the second half with a quick scoring flurry as a LoVett jumper followed by a Ponds floater, steal, then finger roll stretched the lead to 30 just two minutes in.
"Obviously we've made a lot of changes," Mullin said. "You could see it the way the game started, a lot of these guys are inexperienced so there's got a looong way to go. This was a nice workout, I think a lot of guys did a lot of good things."