Red Storm & Orange Announce Date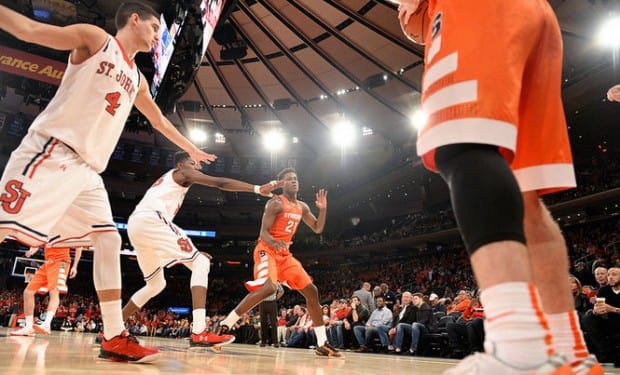 QUEENS, N.Y. (August 16, 2016) – Two of the winningest programs in Division I history rekindle their long-time rivalry on Dec. 21 when St. John's heads to the Carrier Dome for the return game of its home-and-home series with Syracuse. The former BIG EAST counterparts will meet for the 91st time in a storied series that dates back more than 100-years.
St. John's has captured victories over Syracuse in their previous two meetings, including last year's 84-72 triumph against the Final Four bound Orange on Dec. 13 at Madison Square Garden. The Red Storm makes its first trip back to the Carrier Dome since downing the Orange, 69-57, before a crowd of 24,884 on Dec. 6, 2014. Syracuse owns a 51-39 advantage in the series that began during the 1911-12 season.
Syracuse is fifth and St. John's ranks ninth on the NCAA's all-time wins list with 1,920 and 1,803 victories, respectively. Both programs are also in the top-10 for all-time winning percentage and have combined for 66 NCAA Tournament appearances.
Entering his second season at the helm in Queens, head coach Chris Mullin returns a young roster featuring a blend of experience and talent. Rising sophomores Federico Mussini (Reggio Emilia, Italy), Malik Ellison (Voorhees, N.J.), Yankuba Sima(Girona, Spain) and All-BIG EAST Freshman Team selection Kassoum Yakwe (Bamako, Mali) will complement a highly touted crop of newcomers this season. The quartet played key minutes for the Red Storm in 2015-16, combining for nearly 40 percent of the team's scoring, rebounding and assists.
Acclaimed first-year players Bashir Ahmed (Bronx, N.Y.), Shamorie Ponds (Brooklyn, N.Y.) and Richard Freudenberg(Heidelberg, Germany) will make their Johnnie debuts along with Marcus LoVett (Fort Wayne, Ind.) and Tariq Owens (Odenton, Md.), both whom sat out last season due to NCAA regulations.